With my current setup, I'm trying to make as much music 'out of the box' as possible, away from the computer as I find it more fun.
Synths:
KORG Minilogue: I use this for a keyboard controller, and I use the 16 step sequencer to run simple sequences. It connects to the PC via USB and has MIDI output. I can also use this as a synthesizer its own right, it's good for backing chords and pads.
KORG MS20 Mini: I'm borrowing this from a friend. I will use it as a bass synth mostly. I've got a Harvestman English Tear module which connects it to my Eurorack.
Effects:
Electro Harmonix Stereo Memory Man with Hazarai: This is an effects pedal with reverb and delay, which I use to add a bit of effects to modular synthesizer before I record. I will also use effects within Ableton, but I like the sound of this pedal in general.
Drum Machine:
Nord Drum Mk1: This accepts triggers from the Eurorack I've recently discovered, so I have a drum machine that I can connect up to the Eurorack with 4 different drum voices.
Modular:
This is equivalent to a fairly standard three oscilator synth, with ring-mod, S&H and noise out. I have a few different filters, an XPander style filter, an 'extreme' filter which is loosely modelled on the MS20 filter, and a triple resonance filter which I use for noise soundscapes. It has two envelopes, and a Make Noise Maths and a Serge VCS equivalent for some modulation madness. It also has a 16 step sequencer.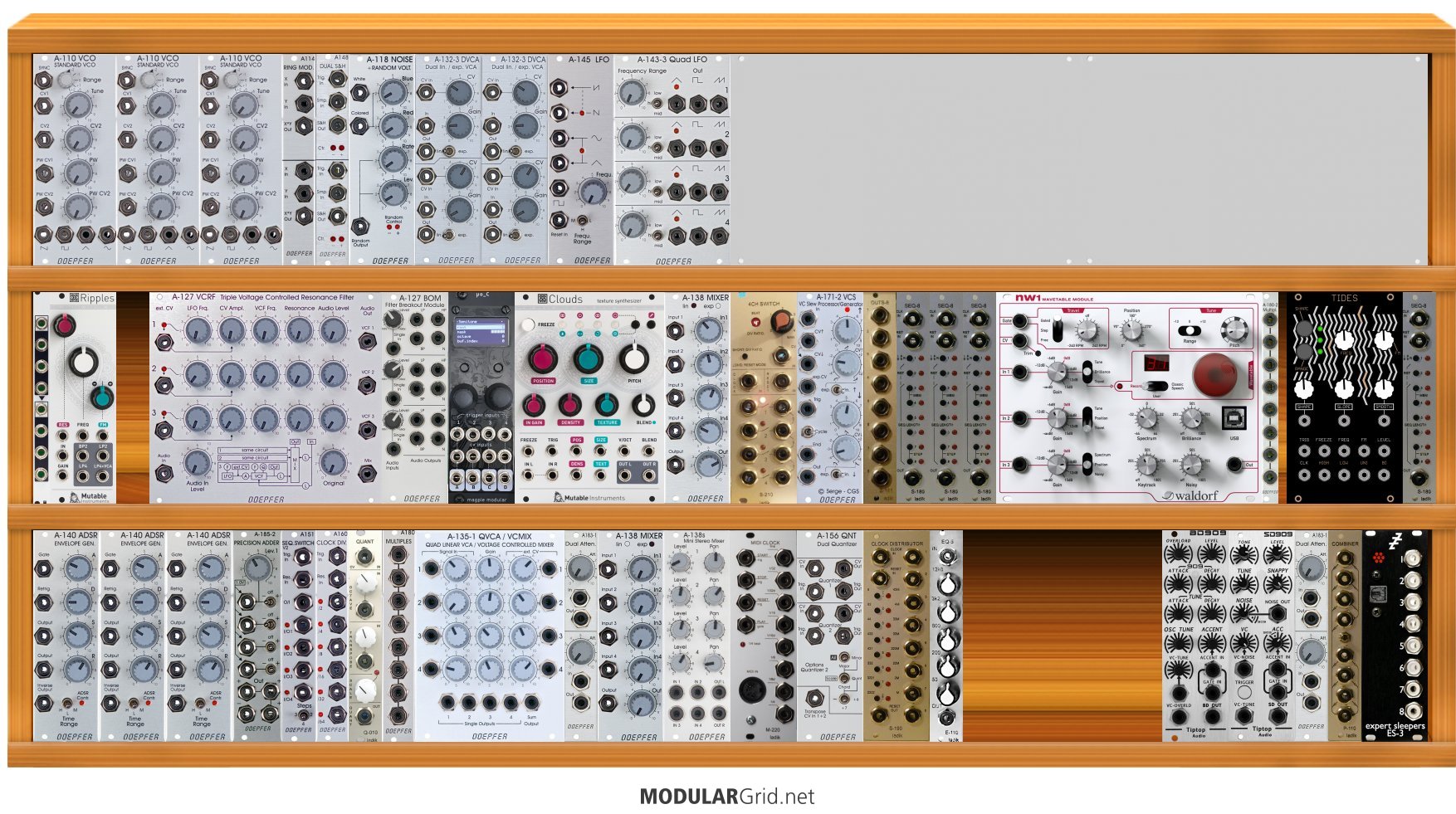 Workflow:
I still use Ableton Live as a midi sequencer, creating midi clips for drums and the hardware synths. I will build up a patch on the synth, tweaking until it sounds servicable, then make a midi clip, record some loops from the synths, and cut up and move the audio around to compose a track. I might add some soft-synths and effects such as reverb and delay on the PC and mix the track. Then I will upload it to soundcloud and show it to musically minded friends. Depending on what they say, I may tweak the track and upload it again. This whole process usually is done within the space of a day or two, I sometimes spend longer for tracks that I want to be more finished and professional, but I am not really usually making music for more than a few people at the moment, so I don't spend ages finetuning each track.